1Collision Summit Includes I-CAR Tour, Insight from Industry Experts & Networking Opportunities
A tour of the I-CAR Chicago Technical Center, insight from industry experts and networking with body shops and vendors were all part of the two-day 1Collision Summit, June 8-9 in Chicago, IL. The 58 attendees included 1Collision location owners and managers, sponsoring vendor partners, and 1Collision staff from the U.S. and Canada.
"1Collision conferences have always been very well received by the 1Collision location owners," said Jim Keller, president and COO of 1Collision. "During the pandemic, we were only able to connect virtually with the shops and vendor partners as a group. We are grateful for the partners and speakers that supported the event with their very informative and relevant presentations."
On day one of the event, there was a behind-the-scenes tour of the I-CAR Chicago Technical Center, which opened nearly a year ago. Attendees had the opportunity to see the latest collision repair technologies and education, including the facility's welding, flex, ADAS and EV labs, as well as hear presentations at various learning stations related to scanning, calibrations, 3D printing and virtual reality demonstrations.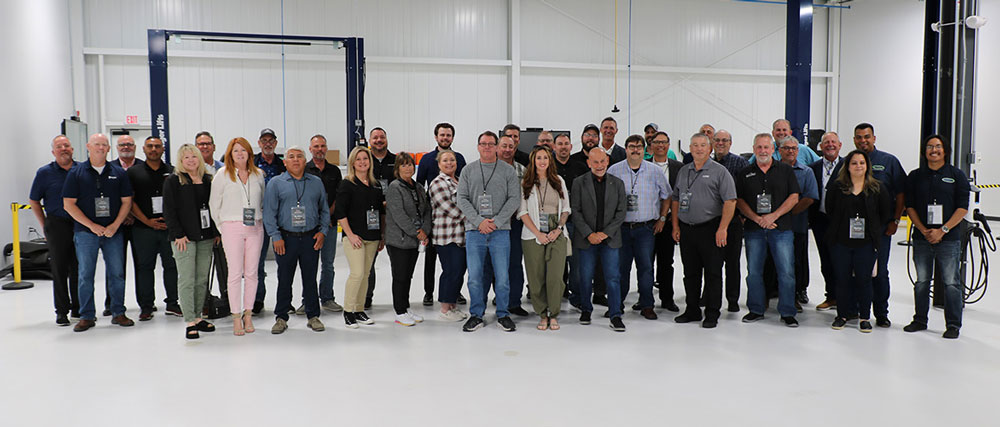 "The Day at I-CAR event was a dynamic and valuable experience for all in attendance," said Keller. "Special thanks to Bud Center, Lisa Ferguson and the entire I-CAR and Chicago Technical Center leadership and staff for a memorable experience."
"We're proud to aid 1Collision in their collective objective. The Appleton and Chicago Technical Centers are investments in our industry's technical infrastructure," said Associate Vice President of Collision Repair Terry Ticel. "With advanced technology impacting all corners of the industry, I-CAR's role is to support every collision repair professional so that they're armed with the resources, knowledge and skills to survive and thrive the Technical Tsunami™."
Following an in-depth technical information presentation from Center, I-CAR's director of technical products and curriculum development, Brandon Eckenrode, executive director of the Collision Repair Education Foundation (CREF), discussed CREF's efforts to support collision school programs and showcased how businesses can get involved with local schools.
Ideas included volunteering on school advisory boards, encouraging students, schools and instructors to take advantage of CREF scholarships and tool grants and sponsoring Cintas uniforms for students. He also urged shops to donate parts to schools through CREF, participate in career fairs, engage with and present to schools, host field trips and introduce local vendors/suppliers to CREF.
"Collision industry businesses engaging with their local schools, students and instructors is crucial to help ensure these classrooms are full but also are graduating properly trained entry-level staff for industry employment," said Eckenrode.
Greg Peeters, CEO of Car ADAS Solutions, and Frank Terlep, vice-president of collision and ADAS services at Opus IVS, then shared information about setting up and operating calibration centers.
Peeters talked about overcoming the hurdles of building a thriving ADAS calibration business. "With new vehicles now required to have a calibration post-collision repair, is it critical for collision repair facilities across the country to decide how they will meet this increasing demand," said Peeters.
During his presentation, Peeters addressed the current and future need to conduct ADAS calibrations and shared the requirements to set up an OEM-centric calibration center. He also discussed the potential liability if a safe and proper repair isn't performed and the importance of proper documentation.
Terlep discussed what Opus IVS is doing to enable ADAS service, calibration and validation businesses to open, operate and succeed.
"Today, no company is able to provide an existing or future ADAS service, calibration and validation business a complete diagnostic tool, software and mobile app solution to properly identify, diagnose, calibrate, validate, document, manage and invoice for ADAS services, calibrations and validations," said Terlep. During his presentation, Terlep talked about what Opus IVS is doing to solve this problem and help shop owners understand what will be required in the future.
During that evening's dinner, 1Collision presented four awards to network body shop owners/managers.
Raffi Avetyan and Ellie Adri from All Magic Paint & Body in California were named Promoters of the Year for their help with recruiting new locations. Jerald Stiele and Jake Moser from Hopkins Auto Body 1 and Collision Center 1 Golden Valley and Prior Lake in Minnesota received the Growth Award.
The Community Involvement award was given to Denisse Barragan, J & R Auto Body & Paint in California, and Steve Fishe from Plan B Auto Body received an award for Most Improved Shop.
Keynote speaker Caleb Spitler, founder of Restio, then shared insight on avoiding burnout and the science of having more energy.
"Everyone wants to increase productivity, have lots of energy, feel good and take their organization to new heights, but last year the No. 1 reason people quit their jobs was due to burnout," Spitler noted. "If we expect a high level of output from ourselves and our teams, we must become experts at restoring our physical and emotional well-being."
Spitler also shared how organizations can reduce stress, increase engagement and help create thriving cultures that attract and retain top performers.
The following day, 1Collision strategic partners presented on topical industry issues. Enterprise representatives Tristina Egloff, business solutions manager in the Enterprise Replacement & Leisure Division, and Andi Dachel, director of sales and business development at Entegral, were also available to answer questions about Entegral services.
Dan Risley, vice president of quality repair and market development for CCC Intelligent Solutions, talked about the future of CCC and technology. This included scanning and calibrations.
"As Advanced Driver Assistance Systems (ADAS) continue to evolve and become more commonplace, industry trends are materializing surrounding scanning and calibrations," said Risley.
Risley talked about the root causes of these emerging behaviors, how they can affect business, and solutions to help shops owners and manager better manage their collision repair facilities.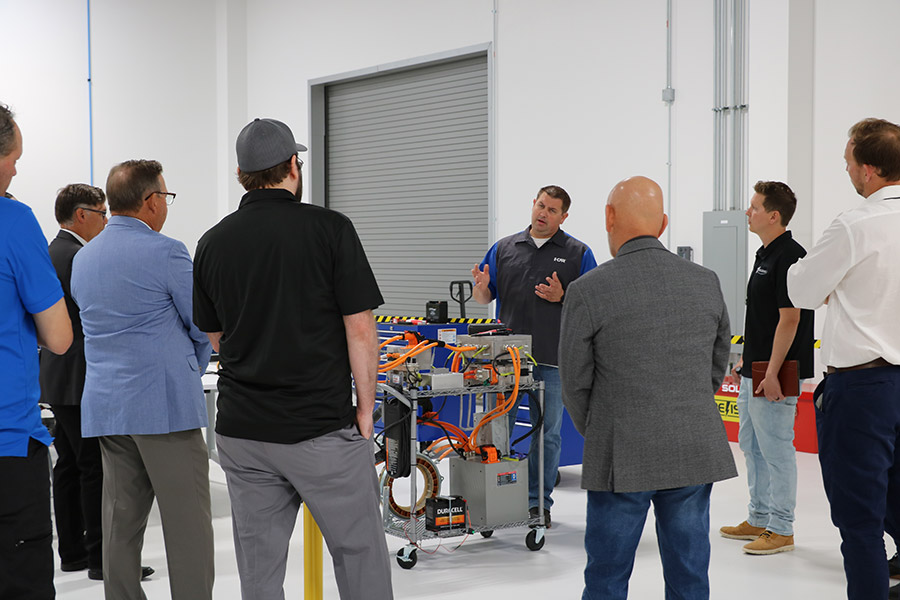 As the national account executive at PartsTrader, Mark Adler has been working at the company for 10 years, focused on helping shops/MSOs increase gross profit on parts and improve the parts procurement process. Adler shared tips with conference attendees on how to increase gross profit with the parts procurement process. He also discussed the results from 1Collision's pilot program and how locations have improved their bottom line.
Bob Stansfield, senior manager of field operations, Collision Repair Network (CRN) for OEConnection (OEC), discussed the importance of ensuring quality and safety and the significance of OEM certification in the collision repair industry.
"It indicates that a repair facility meets certain standards and has the necessary equipment, tools and training to repair vehicles properly," he noted. "It also ensures that repairs will be performed to the specifications set by the vehicle manufacturer and genuine OEM parts will be used in the repair process."
He said the safety of drivers and passengers is paramount, and non-certified repair facilities or non-OEM parts can compromise safety and increase the risk of accidents or injury.
OEC Director of Collision Sales Nicky Woerner provided an overview of current and future trends, including the inefficiencies and confusion they create for repairers. In her current role at OEC, Woerner is responsible for developing the sales strategy for the RepairLogic Repair Planning Platform in North America with the goal of eliminating complexity around vehicle repair. Woerner educated shops on what it takes to get to a predictable outcome and how OEC is committed to helping solve the complexity of repairs.
Keynote speaker Mike Jones, founder and president of Discover Leadership Training, finished the event with messages centered around leadership.
"We all have a comfort zone, certain patterns of doing things, certain ways of thinking," said Jones. "It becomes so comfortable for us to remain in that comfort zone, in that fixed mindset, even when we know of a better way, we stay stuck."
Jones encouraged attendees to get out of their comfort zone yet realize that failure must be an option. "The person who truly perseveres is the one who got up, dusted himself off and got into the game and went for it again," he said.
"Meeting everyone at the summit, along with all the information, speakers and I-CAR tour, was very worthwhile," said Greg Anderson from Crossroads Collision in Salina, KS.
"My team and I walked away with a new, invigorating drive to be the best we can be at what we do," added Ernie De Loera from Collision Service Center in Schaumburg, IL.
Moser, who received the Growth Award, said going to the I-CAR facility was "awesome."
"We were able to see what they are up to and learn about some of the new products they are working on," he shared. "It was great to see that they were doing testing on aftermarket scanners to see if they could pass OEM standards, which would help the body shops a ton."
Moser said he was able to learn from all the presenters who spoke. "Best of all, it was about the people meeting one another and learning from each other," he said.
Thank you to Autobody News for sharing this announcement.