All Magic Holds Team-Building Event
By Stacey Phillips
1Collision location All Magic Paint and Body in California brought together about 70 employees from their four locations for a team-building event on August 12. Kevork Kahwajian from 1Collision had the opportunity to visit with employees and talk to vendor partners, including 3M, AkzoNobel, Industrial Finishes and Systems, Inc. and LKQ Corporation.
Established more than 30 years ago, the MSO operates body shops in Norco, Eastvale, Moreno Valley and Fontana, California.
Ellie Adri is president and CEO of the company, and Raffi Avetyan managed the Norco location for years and is now the co-owner of the Moreno Valley location.
Tina Khouri, All Magic's regional manager, said the business owners are really focused on creating a family atmosphere and encouraging a work/life balance.
"They want everybody to know there's definitely a future with All Magic," said Khouri, who has worked at the company for five years. "They are here for us no matter what. Not just as bosses, but as family."
Adri and Avetyan decided to hold a team-building event to show appreciation for employees and have them get together and motivate each other.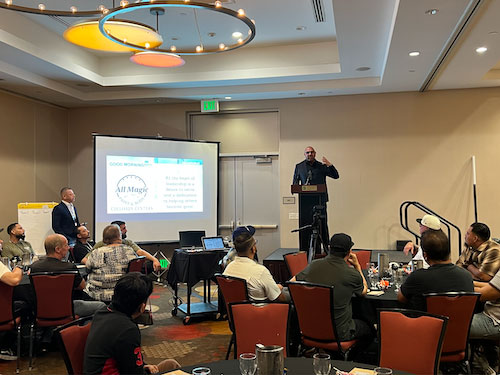 The event included a session led by Tim Ronak, senior services consultant for AkzoNobel, who shared information about overcoming objections to payment for needed repair procedures. In addition, Dan Carranza, AkzoNobel's sales leader for Vehicle Refinishes U.S. West — Mexico gave a motivational presentation about operating with an owner's' mindset. Scotty Carlisle also talked about overcoming adversity.
Part of the event included a timed team-building activity led by Ronak that involved everyone standing in a circle, passing around a tennis ball and then dropping it into a box.
"I felt the team-building activity brought a lot of people together," said Khouri, who coordinated the event. "They were able to work together as a team, put their minds together and make it work."
By bringing employees together for team-building events such as this one, Khouri said the goal is for employees to understand how much they are valued.
"People are going to come to work motivated, knowing that management and the owners care for them as much as they care for their jobs," she said. "Employees will also want to help each other more."
1Collision's vendor partners were an instrumental part in planning the event.
"Without the advice and guidance from vendors, I would not have been able to pull this event together," said Khouri. "I just think it was perfect. The laughter in that room made all the hard work worth it."
Currently, the company is transitioning to set up a similar business structure in all locations based on the standard operating procedures (SOPs) at the Moreno Valley shop.
As part of Khouri's role, she visits All Magic's shops to ensure they are operating in a similar way and offering the same type of service.
"We're taking it one step at a time and it's going well," said Khouri. "It will be a positive change for the business."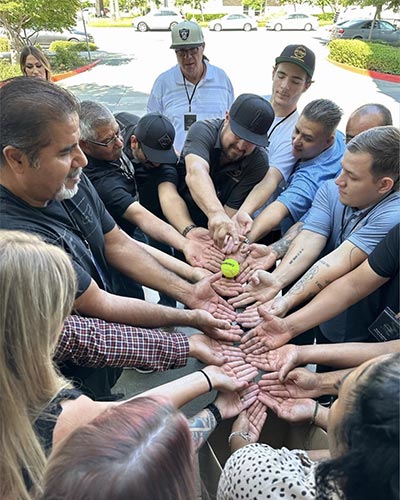 She said change can sometimes be challenging, but employees are being supportive. "They all have good attitudes about it," said Khouri. "I think once they see how smoothly everything is running, they'll be more on board."
In the meantime, Khouri said the company will continue supporting their employees and encouraging them to work together as a family.