How Huber Collision Center Strives to Exceed Customer Expectations While Repairing Cars Correctly
By Stacey Phillips
In Fredericksburg, VA, the team at Huber Collision Center prides itself on providing excellent customer service and repairing cars correctly.
Opened in 2000, the the 35,000-square-foot independent collision repair facility is part of a dealer group owned by Huber Motor Cars and includes Mercedes-Benz of Fredericksburg and Volvo Cars Fredericksburg. Phil Rice is the general manager and has worked at Huber Collision Center for three years.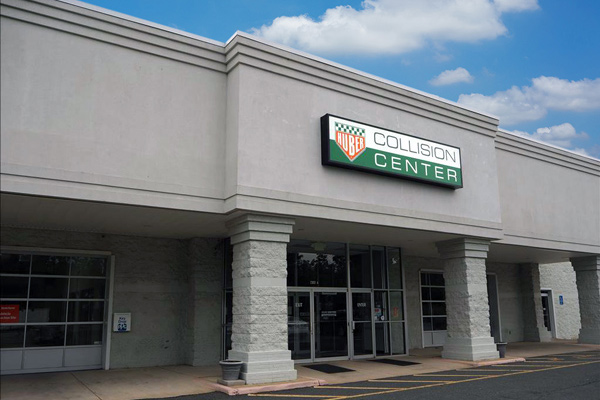 "Our goal is to gain our customers' trust by always seeking to do what is fair and right, to build our employees by empowering them to succeed, and to strive for excellence in everything we do," said Rice.
The family-owned facility includes a team of 25 employees who range from those who are brand new to the industry to others who have worked there for 17 years.
"I have a great team I have the honor of leading," said Rice. "I've tried to create a place where they can grow and flourish as individuals."
Q: Why did Huber Collision Center decide to join 1Collision?
The industry is changing at such a rapid rate. While other auto body shops have been taken over by large corporations with headquarters thousands of miles away, we have been locally owned from the beginning and plan to stay that way. We are not interested in becoming consolidated or selling, so we felt the best way to move forward is to partner with like-minded people we can grow with, like 1Collision.
We're looking forward to growing our business with 1Collision. The network has a great track record with processes both on the front and back end. They also have a great network with different vendors.
We highly respect what they've done in the industry and the relationships that they've created. What I respect the most is their standard of operation. They're looking to partner with people who want to fix cars correctly and take care of customers.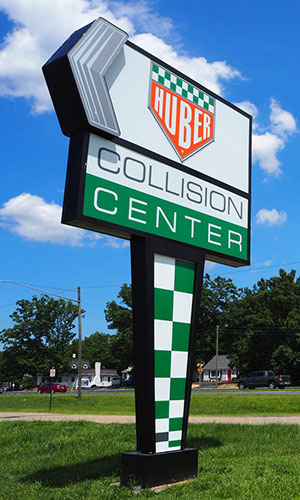 The partnership with 1Collision will also allow us to connect with people from across the country who have similar goals and aspirations. If someone has encountered a barrier or obstacle and have worked through the problem, it's great to hear about the experience and learn from it. We can talk with people and don't always need to reinvent the wheel.
Q: What are some ways the business has changed since the pandemic and how are you dealing with it?
Our volume of work has returned since the pandemic and our insurance relationships have changed based on their staffing as well as their preferred method of business being virtual. Often, it's very hard to communicate through email.
We've gone from approvals that used to take 24 to 48 hours on the long side and now can take 5 to 7 business days. As a result, we've made a big effort to keep customers involved in all aspects of our communications with the insurance company at a far greater level than we had previously. This helps ensure they understand that some barriers to getting their car repaired are beyond our control.
Q: Can you share how you work to exceed customer expectations?
We pride ourselves on providing excellent service and work diligently every day to keep our customers informed. We always want to reach out to customers before the "worry meter" goes off, especially if their car isn't ready when they expect it will be.
The average customer has an accident once every seven years so typically, they aren't familiar with the process of going through an insurance claim. We have a high concentration of customers in the government and military due to our location. We find they may have had a completely different experience when they lived somewhere else. As a result, we try to help customers from day one, find out their expectations and work to meet or exceed them.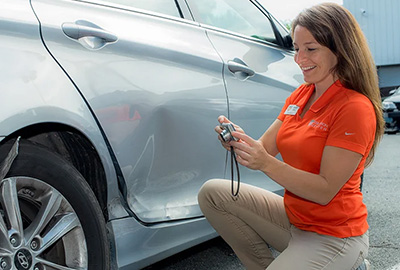 Q: What are some of the best practices you have implemented at your facility?
Local ownership enables us to be actively involved in day-to-day operations, decision-making and quality control to make investments that are best for our customers. One of these investments is our decision to become certified by Mercedes-Benz and Volvo. We are also an AAA Approved Auto Repair Center and staffed with I-CAR Gold Class professionals.
I want everybody at Huber Collision to understand the reason we come here each day is to serve our customers and make a living. We can go home in the evening to what's most important, which is our families.
One of the ways we keep our team connected is through daily production meetings. We are able to identify the customers and vehicles that need priority attention and develop a plan as to what is going to take place. Sometimes, those plans change and if you aren't willing to effectively communicate that on a floor level, it creates confusion or dissension within the organization.
Q: What are some of the ways team members support the community?
We are invested in this region and its people and consider it an honor to be able to serve our neighbors, friends, and the many newcomers who find their way to this beautiful region.
We have an ongoing commitment to reach out—alone and in partnership with local non-profit organizations—to help people in our community receive the necessities of food, clothing, safe shelter, health care and the right to life.
In addition to sponsoring the annual Fredericksburg Christmas Parade, some organizations we assist include Choices Women's Center, the Fairy Godmother Project, the Mary Washington Hospital Foundation and the Rotary Club of Rappahannock-Fredericksburg. As a Christian-based company, we are also passionate about supporting Christian organizations, such as Christian Youth Theater, Fellowship of Christian Athletes, Fredericksburg Christian Health Center and Fredericksburg Christian Schools.