Jerald Stiele, Owner of Two Minnesota Shops, Adds Third 1Collision Location
Jerald Stiele, president of two collision repair facilities in Minnesota, and his team recently acquired a new location, Collision Center 1 – Prior Lake. The team also operates Hopkins Auto Body 1 in Hopkins and Collision Center 1 – Golden Valley.
Hopkins Auto Body 1 was established in 1962 by Stiele's grandfather, Floyd. Stiele's dad, Jerry, and his two uncles, Ed and Dale, took over the company in the mid-1980s. The business eventually outgrew its location in Hopkins and relocated about a mile away in 1995.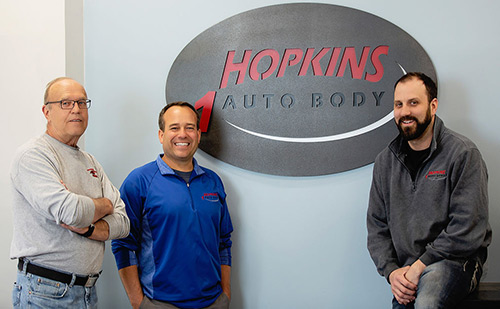 Stiele has worked at the shop for 26 years and took over ownership with partners Dale and Jake Moser about a decade ago. Since then, the company has become part of the 1Collision and acquired two locations.
We recently talked to Stiele about the decision to join the 1Collision Network, what makes the business successful, as well as tips on how to hire and retain employees.
Q: Why and when did you decide to join 1Collision?
A: A group of shops I knew in Minnesota wanted to be part of an organization that allowed us to work together on issues and share best practices. We interviewed several organizations and 1Collison fit our needs the best, so we joined the network in 2017. We were able to remain independent shops but at the same time, it allowed us to work together collaboratively and be part of something larger. It was a great fit.
Q: What prompted the purchase of Collision Center 1 in Golden Valley?
A: In 2019, my business partners and I were looking to expand the business. We heard about a new location for sale about 10 minutes away from our Hopkins location. We felt it was a good fit with our culture and it turned out to be a great acquisition.
Q: Can you tell us about your most recent acquisition?
A: Just recently, we heard that Prior Lake Auto Collision was for sale due to the business owner's death. The previous owner's wife and the crew were grateful we were able to come in and purchase the shop and bring some stability to a fairly chaotic situation. We feel this is another great fit for us due to the team's history of serving their community. We hope to carry on the legacy that the owner, Dave Moline, started in 1993.
Q: What are some of the challenges running multiple locations?
A: Everybody does things differently. We try to pick out the things that make the shops successful and then find ways to improve the business based on the processes we do and want to implement.
Q: What makes your business successful?
A: We utilize the resources that are available to us and are active in our local association, AASP-MN. This allows us to learn from other shops and keep up with what is going on in the industry.
However, above all, what makes us successful is having a great team. We currently have 39 employees and are looking to add a few more.
Q: Do you have any tips for hiring and retaining employees?
A: We invest a lot in continuing education of our people and offer a positive work environment and a chance for growth. My advice is to make sure you have the culture and work environment to retain the great people you already have working in your business. New employees are the scarcest resource right now because everyone is looking. Make sure to take care of who you have and always be recruiting!