IL Shop Owner Says 1Collision Support & Training Helps Business Stay on Good Path
By Stacey Phillips
In 2011, Warren Wietting opened Warren's Collision Center in a small building located in Braidwood, IL. Over the years, the business expanded and he and his team built a 5,000-square-foot facility to accommodate the growing operation. Wietting joined 1Collision about a year and a half ago. Since then, he said the 1Collision team has helped refine their processes and be more successful overall.
Wietting recently shared information about why he joined 1Collision and how it has helped his business.
Why did you decide to join 1Collision?
About a year and a half ago, I met Mike Randazzo, the owner of Randazzo's Gallery Collision Center, a 1Collision location in Bradley, IL. I'm thankful I met him. I was humbled because he occasionally called and we'd talk about how to handle certain situations in the shop.
I still look at myself as an apprentice body shop owner. The business end of it has always been where I needed the most help. Since then, we've had some great conversations. I happened to be in that area to take a car for a calibration in his market and stopped in.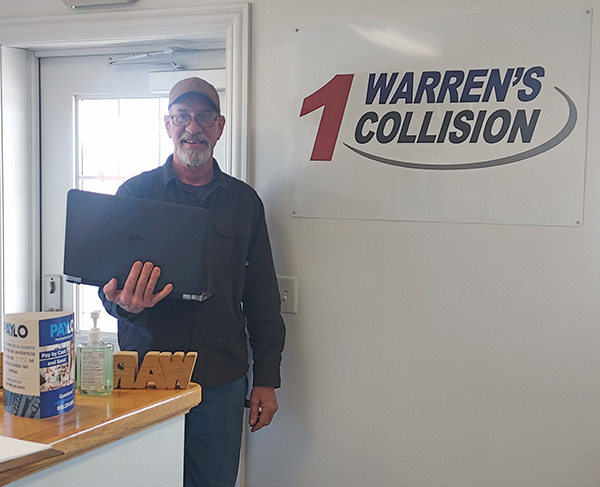 Kelly Cooper was there helping him and that's when I learned about 1Collision. I had been looking for standard operating procedures (SOPs) to get better organized and structured in my business. We spent almost four hours talking about processes and what 1Collision offers. I never felt pressured during the time we spent together. That has always turned me off when somebody comes on strong. I tend to backpedal. I didn't have that feeling after spending time with Kelly and Mike that day.
About two months later, I joined 1Collision. I felt there were so many positive things that 1Collision could bring to the table for my business. I'm happy I made that decision because it has been an enormous help in workflow administration.
What do you attribute your success to since working with 1Collision?
I attribute it to the cooperation of the staff. At first, we had some pushback from the staff, but I encouraged them to give it a second try to improve our lives in the shop and office. Since then, I've had a great response from the crew and they're all on board.
Naturally, the technicians working on commission are making a few more dollars per week because we're better structured. Something we changed in our business that has made a big difference is keeping the paperwork in front of the job. We no longer have two, three or four supplements. We might have one or two, which is much better.
The office is much more regimented from the time we first deal with the customer, until we schedule the repair, work with their insurance company and deliver their vehicle. Everybody has played a huge role and I credit my staff for our success.
How has 1Collision helped your business since joining?
We have had good support from several different directions. The 1Collision team has shared tips about good customer communication, better insurance relationships, handling the claim process and recruiting. Their ongoing support and training have helped us with shop organization and we're well aware of anything new coming out in the industry.
1Collision has also introduced us to some very good connections. As a result, I changed paint stores and they have been phenomenal. I went from using a little mom-and-pop distributor that may or may not have product to a big vendor with more inventory.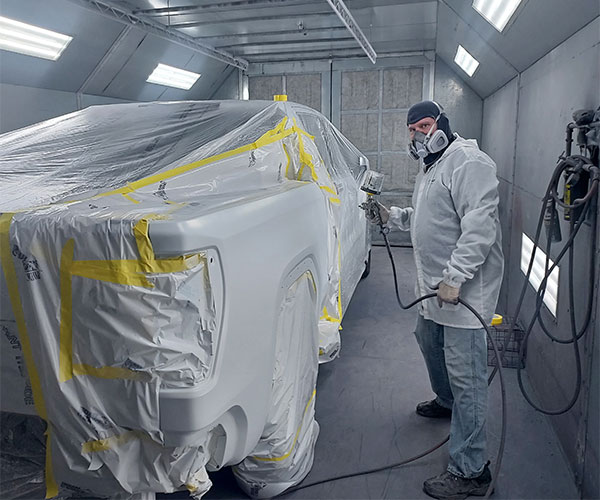 Another huge plus is the rebates available through 1Collision. There are some great discounts on I-CAR training through the network.
It has been a great ride from the time I joined 1Collision to the present day. There are many things they have helped me with in the short time I've been involved with them. I'm so glad we decided to join and I look forward to working with their consultants to help keep us on a good path. We are a very young shop with a long way to go but our goal is to become what we can be with the assistance of 1Collision.
What type of assistance has the field operations team provided?
The field operations team has been awesome in helping us refine our procedures. It worked really well for about a month and then we had a former manager start migrating to the older ways where we weren't getting the supplements up front or keeping the paperwork in front of the job. I let that manager handle it the way she always had, but I knew how much better it could be. She wound up burning herself out and left this past November. I moved Anthony Combs into her position and started training him. He's a very knowledgeable young guy and caught on quickly. Tracy Bernico, the office manager and also stepped up.
I contacted Kelly in December 2022 and let him know that I thought it was a great opportunity to give this another try because I felt like I'd have more support from the staff to implement the processes that 1Collision recommended. I talked to the team ahead of time and they were on board.
Joyce Schuenke came in and did some amazing things interfacing with QuickBooks. It eliminated a bunch of manual entries, allowing Tracy to concentrate on other things. I informed the staff that it will be a work in progress for some time and we will likely have hiccups; however, we're going to get through them together.
The staff has been responsive to the SOPs that 1Collision helped me reinforce. I was regimented when I worked in a shop, but I was having a tough time helping the staff understand that concept. That's where 1Collision came in. Joyce and Kelly have really helped my team look at ways we can make improvements. They've offered solid solutions and different ways to initiate the processes. What I thought would take five or six months has happened in two or three months. It has been a very positive outcome.
I couldn't be happier with the ideas Kelly and Joyce brought to our shop. I'm very happy that I got involved with 1Collision. It has been a great experience.
How has the information Kelly shared about the industry and repair planning been helpful to your business?
That information has been so valuable. We still are a work in progress but he shared what we were overlooking and explained how to move vehicles through the shop smoother. The information he shared is a large part of why we are getting things done easier every day.
What is the advantage of independent shops being part of a network?
That was the main reason I was interested in joining 1Collision. We've marketed well in this area and can maintain our personnel and reputation as Warren's Collision Center. At the same time, we have the support of the 1Collision team and can work with some of the best shops across the country and stay up to date on the trends in today's collision world.
It also provides an independent owner like me 'go-to' people to reach out to in the network to ask how they do things and share ideas. I don't feel like I'm on an island anymore.
For more information about Warren's Collision Center, visit warrenscollisioncenteril.com.