Communication With Customers and Staff is Key at Warren's Collision Center
By Stacey Phillips
Warren Wietting developed a passion for the collision industry from an early age. His first experience in a body shop was nearly 50 years ago, when he was 14. Over his career, he has worked as a technician and manager for different independent facilities and managed a couple of corporate shops.
"It was quite a transition going from the shop to the office but I'm a people person and enjoyed it," he recalls. "I've always taken a lot of pride in being the lead guy."
About 11 years ago, he began feeling frustrated working in the corporate world and shared his experience with a man named Louis Espino who suggested he open his own shop, Warren's Collision Center. Although Wietting liked the idea and found a building, he didn't have the funds. Espino offered to loan Wietting money to open Warren's Collision Center in Braidwood, IL.
"I'm forever grateful to this man who has become a great friend," he said.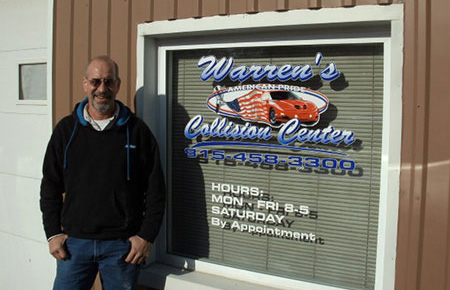 Wietting rented a five-stall body shop and began repairing cars with one technician. About three years ago, he needed additional space and purchased an acre lot in an industrial development in Braidwood, where they built a 5,000-square-foot facility to accommodate the growing operation.
Currently, they have eight staff. "I've been very fortunate to have a great bunch of people working with me with the same goals," said Wietting. "We've built a good reputation and it's a team effort."
What do you enjoy most about running your business?
I enjoy the people and the staff. My employees include Anthony Combs, Repair Planner – Estimator; Tracy Bernico, Office Manager; Randy Calcatara, Paint Tech; Tim Duran, Body Tech; Josh Hedrick, Body-Paint Tech; Pete Spandet, Lead Body – Paint Tech; Dillon Mayer, Detail Dept.; and Lorne Wilkins, Clean Up.
Running Warren's Collision Center has been really rewarding for me over the years. I enjoy overseeing the business and am the 'fire putter outer.' When a frustrated customer comes along, I let my office staff know to please direct them to me so I can have a conversation with them. I've been successful at diffusion. Customers often don't understand what's happening with the repair, so we communicate with them and keep them informed about the status, especially if it's going longer than usual.
I tell my staff to stick with the truth and treat people like people. If we take care of customers and properly repair vehicles, everything else will fall into place.
Read about Wietting's decision to join 1Collision and how the company has helped him be successful in his business.